About us - VULCRI Freight Forwarding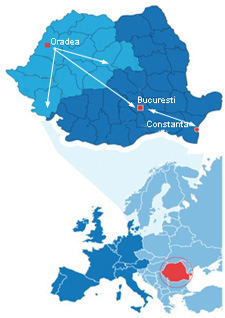 VULCRI is a private owned company from Romania whith headquarters in Oradea, our company took birth from our concern in providing quality and expertise in Freight Forwarding services on international and national routes. Vulcri is a transport broker and international forwarder for import, export and transit.
Our high quality services are based on a very good management and logistic experience, gained over the time and is relied on requests from our clients.
Business relationships with customers and partners are based on customer focus, flexibility and professionalism, all of this at international standards for safety and transportation conditions.
Road transport
A transport solution to the place of destination without road transport be it separately or as a component of a logistic concept, is unthinkable. Vulcri offers many alternatives for a transport by road. We can provide full services for all destinations in Europe and Romania.
Vulcri hands keep in touch with the organizational and operational aspects. Everything is arranged and monitored by our specialised employees - whether it is a full truck, a part load, or a freight groupage.
Our mission and promise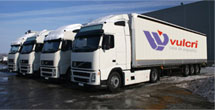 You will benefit of efficiency, pragmatism and honesty. All our activity and business relations are based always on ethical rules internationally accepted. Vulcri attitude does not resume only at legal requests, but it extends to moral concepts like equity, honesty, integrity and social responsibility towards all our clients or potential clients.
Vulcri is member of U.S.E.R. - Romanian Forwarding Companies Union
Anywhere in Europe or in Romania you need your goods to be transported, VULCRI will be glad to help you to make it as easy and efficient for YOU.